Wednesday, December 31st, 2008
So first off a very Happy Birthday to Debi!!!
In celebration of your birthday, Darren has finally finished constructing my bike. Still waiting to replace the crank with a compact crank (surely Ebay will have a deal soon), and apparently I cannot shift into the highest gear (to be fixed by Kinetic today), but other than that, my AWESOME husband (yes, awesome, as in my road ID says "my husband is Awesome") has managed to reconstruct my bicycle so that all of the aerodynamics I paid for have been successfully removed. Better picture to be posted when I can figure out which of the 42 cords on the desk actually work with my camera.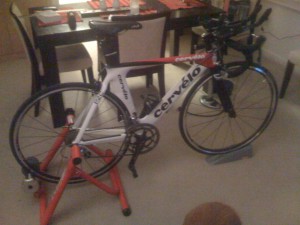 A huge thank you to Phil for the suggestion of the book "The Zinn and Art of Maintenance on Triathlon Bikes". Apparently it came in very handy, as the shift and brake levers instructions were minimal (i.e. Step 1 Install, Step 2 Use). And a second huge thank you to Cheryl, Debi, Kirsten and Linda for telling me my honorary lesbian card would be revoked if I did not watch "The L Word". Seems construction time for a bike is equivalent to about 2/3 of Season 2.
Darren will be christening the bike on Friday (umm yeah, I've seen enough Law & Order to know it's always the husband who kills the wife with the shoddy brake "repair"). Once I know the brakes will actually stop the bike, I'll take it out for a ride on a trail that is not slick, well cushioned, not icy, no leaves, and no Indian food smells. If I'm really feeling motivated, I might race it on Saturday, IF I can convince myself that the TBF New Years duathalon is worth waking up early for, and more importantly IF I'm not too hungover.
Happy New Year to everyone, and for those of us moving into a new age group at midnight tonight, here's hoping it's a less competitive age group. Fat chance I know, I think I'm in Kirsten and Linda's group now. On the plus side, at least now I'll be able to draft off Linda!